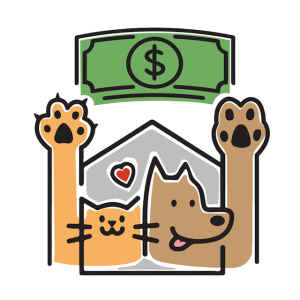 Ways to Donate:
Gifts of Cash 
The easiest and most direct way of supporting Butte Humane Society's Capital Campaign is a gift of cash. DONATE TODAY
Gifts of Stock 
Avoid capital gains through a gift of highly appreciated stock while taking a full value deduction on your tax returns.
Recurring Monthly Donation 
Recognizing that many caring people may not have the capacity to make a sizable gift at any one time, we suggest the alternative of making a smaller gift on a monthly basis. DONATE MONTHLY
Matching Gifts
Many corporate employers will match their employees' gift to a 501(c)(3) non-profit. If your company has such a program, please request their matching gift form and send the completed form to us.
Bequest 
Leave a legacy of love by remembering Butte Humane Society in your will.
Services or Items 
If you have a professional service or product you wish to donate to the capital campaign, please let us know. Services such as painting, construction, building materials, artwork, etc. will all be considered.
---
Name the Shelter or a Building
Celebrate your achievements or honor a beloved family member by naming part of the shelter after yourself or a special person or pet.
Naming a part or all of the shelter is a wonderful way to leave an enduring reminder of your generosity.
Please click here for current naming opportunities.
---
Campaign Contact Information
Phone: 530-893-6613
Contact:
capitalcampaign@buttehumane.org
Campaign Address:
Butte Humane Society
PO Box 7654
Chico, CA