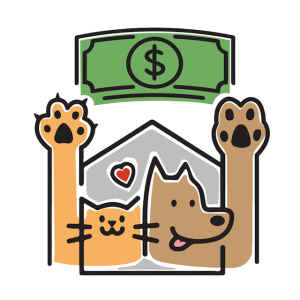 $250K Matching Gift Challenge!
March– June 2020
An anonymous donor has posed a$250,000 matching gift challenge to our community!!! Our matching gift challenge was extended through May,  the shelter-in-place mandate has made it necessary to extend the challenge through June. Our anonymous donor wholeheartedly supports the extension of the Match Challenge and looks forward to matching every dollar that is donated, up to $250,000, so that BHS can finally build a home of its own for the animals and people of our community.
You can DOUBLE YOUR DOLLAR by donating right now, which will help us reach our challenge goal. Scroll down for links to donate and check out our community naming rights which range from $100- $5,000.  Let's raise $500,000 together for our animals and BHS' forever home.
Ways to Donate:
Gifts of Cash 
The easiest and most direct way of supporting Butte Humane Society's Capital Campaign is a gift of cash. DONATE TODAY
Gifts of Stock 
Avoid capital gains through a gift of highly appreciated stock while taking a full value deduction on your tax returns.
Recurring Monthly Donation 
Recognizing that many caring people may not have the capacity to make a sizable gift at any one time, we suggest the alternative of making a smaller gift on a monthly basis. DONATE MONTHLY
Matching Gifts
Many corporate employers will match their employees' gift to a 501(c)(3) non-profit. If your company has such a program, please request their matching gift form and send the completed form to us.
Bequest 
Leave a legacy of love by remembering Butte Humane Society in your will.
Services or Items 
If you have a professional service or product you wish to donate to the capital campaign, please let us know. Services such as painting, construction, building materials, artwork, etc. will all be considered.
---
Name the Shelter or a Building
Celebrate your achievements or honor a beloved family member by naming part of the shelter after yourself or a special person or pet.
Naming a part or all of the shelter is a wonderful way to leave an enduring reminder of your generosity.
Please click here for current naming opportunities.
---
Campaign Contact Information
Phone: 530-893-6613
Contact:
capitalcampaign@buttehumane.org
Campaign Address:
Butte Humane Society
PO Box 7654
Chico, CA